( an unlimited edition of a limited possibility )



"BLOCK BY BLOCK" consists of multiple sets of 24 CAD drawings. Each drawing depicts 4 cinder blocks arranged side by side. Each piece is unique to the other only by the order in which the 4 blocks appear. The 24 pieces that comprise each set exhaust the possible configurations of each being unique in the set. The multiple sets repeat the process (unlimited edition).

The series was inspired by the new construction in the gentrifying areas of Chicago and current discourse in art and aesthetics.

Each piece 4" x 6" in a ready-made frame and includes 24 page booklet.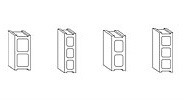 possible configurations →




detail images →











unlimited edition | available